Vision Statement
To be an organization which promotes self-sufficiency and assures the protection of vulnerable individuals. We strive to have an organization which values the needs of our customers, the contributions of our staff, and the participation of our community. This vision shall be achieved through a culture which encourages continuous improvement.
---
Welcome to the Broome County Department of Social Services!
The Broome County Department of Social Services (DSS) is open. We are strongly encouraging the public to submit applications for services electronically (when available), mail or drop off in the drop off box located at DSS, 36-42 Main St., Binghamton, NY. We will continue to meet with clients in person to address emergency needs such as homelessness, eviction, and disconnected utilities, or as otherwise needed at the Main St. office.
Changes to SNAP Benefit Amounts - 2023
The temporary boost to SNAP benefits put in place during the COVID-19 pandemic, known as emergency allotments, will end nationwide after the February 2023 issuance.
Households that receive SNAP and Social Security benefits will see a decrease in their SNAP benefits because of the significant cost of living increase to Social Security benefits that took effect on Jan. 1, 2023. 
SNAP Emergency Allotments to End
Frequently Asked Questions for the
Emergency Allotment of SNAP Benefits
Answers to many frequently asked questions about the supplemental Emergency Allotment (EA) of Supplemental Nutrition Assistance Program (SNAP) benefits.
What are supplemental EA SNAP benefits?
Since March 2020, Congress temporarily increased SNAP benefits because of the COVID-19 public health emergency. Supplemental EA SNAP benefits were issued to households in addition to their normal monthly SNAP benefit amount. As a result, households received more SNAP benefits each month than they would have normally been eligible for based on their income and expenses. You can learn more about supplemental EA benefits, amounts, and issuance in this New York State EA SNAP FAQ document.
Why are supplemental EA SNAP benefits ending?
Congress passed the Consolidated Appropriations Act of 2023 in December 2022 that ended the supplemental EA benefits. February 2023 is the last month that supplemental EA benefits will be issued, and your SNAP benefits will return to the normal amount in March 2023. The New York State Office of Temporary and Disability Assistance (OTDA) and your local social services district do not have control over this change.
How will SNAP recipients be made aware of this decrease in benefits?
All SNAP households will be mailed a letter in February that explains the end of the supplemental EA benefits.  This letter is also available through your local department of social services in multiple languages. 
In addition, SNAP households with mobile phone numbers on file will receive a series of three text messages from OTDA. The messages will be sent from the phone number: 1-877-902-0684. Text messages remind households that SNAP EA benefits are ending and directs them to this EA FAQ webpage. Text messages will be sent in late January, February, and early March.
OTDA will never ask SNAP recipients for their EBT card number or PIN. Never give your card number or PIN to anyone who texts, emails or calls you asking for this information as it is likely a scam. 
In addition, an outreach flyer and social media graphic are available to assist with education and outreach efforts. 
Can I request a Fair Hearing because I am no longer receiving the EA supplement?
Emergency Allotment benefits have been eliminated under federal law, and this decision cannot be changed by a fair hearing if you request one. You may request a hearing if you believe your regular SNAP budget was improperly calculated based on your household's circumstances.
Beginning in March 2023, you will continue to get your normal monthly SNAP benefit for as long as you are eligible.
To ensure you are receiving an accurate SNAP benefit, households that recently experienced loss of income or an increase in expenses, such as housing costs, childcare fees, child support payments or have allowable medical expenses over $35 (for those age 60 or older, or disabled), since your last recertification, can report changes to their local district office which may result in an increase in the household's normal monthly SNAP benefit. To report a change, call your local social services district or submit a change report online through myBenefits or ACCESS HRA.
When you need to recertify, you will receive a notice with instructions on how to do so.
Any unused SNAP benefits roll over month to month. SNAP benefits will not be removed from your card if you use your benefits any time within 274 days. You can check your household's SNAP benefit balance by visiting www.connectebt.com or by calling 1-888-328-6399.
Protect your benefits by changing your personal identification number (PIN) often, and never give your EBT card number or PIN to anyone. To learn more about protecting your benefits from theft, visit the OTDA EBT Scam Alert webpage and watch the Act Fast public service announcement video.
How can I get additional help with food or other household expenses?
If you need more help with food, visit www.feedingnys.org/need-food locate food pantries in your area.
Pregnant or breastfeeding individuals and children under age 5 receiving SNAP may automatically qualify for the Special Supplemental Nutrition Program for Women, Infants, and Children (WIC). Visit health.ny.gov/prevention/nutrition/wic/ and click on the Wanda icon to learn more and connect with a WIC agency near you.
Coupons to purchase more fruits and vegetables with your SNAP benefits are available throughout the state. Learn more and see if your local farmers market or food store participate by visiting FreshConnect, Double Up Bucks and NYC Health Bucks.
The Affordability Connectivity Program provides discounts toward residential internet costs.
Heating assistance is available through the Home Energy Assistance Program.   
New York State Emergency Rental Assistance Program

 

(ERAP)
January 11, 2023 Important Update for ERAP Applicants
New York State ERAP applications will not be accepted after January 20, 2023, at 9:00 pm Eastern Standard Time. Individuals will not be able to submit applications, or complete applications that have been started but not submitted, after January 20, 2023 at 9:00 pm.
Applications submitted before the application portal closes on January 20, 2023 will continue to be processed in the order received, consistent with State law and program rules.
OTDA is currently reviewing and processing eligible ERAP applications submitted through October 31, 2022. Additional applications are expected to be reviewed and processed in the future as funds become available. This notification will be updated if additional funding is available to pay eligible applications submitted after October 31, 2022.
After the portal closes to new applications, tenants and landlords may continue to upload required documentation for pending submitted applications.
For assistance with uploading required documents, call 211.
Information regarding the New York State Emergency Rental Assistance Program (ERAP) can be found here:
https://otda.ny.gov/programs/Emergency-Rental-Assistance/
SNAP- LDSS-5186 (Rev. 8/21)                                    ATTENTION: PARENTS
 Notice to Supplemental Nutrition Assistance Program (SNAP) & Temporary Assistance Households with Children Eligible for Pandemic Electronic Benefit Transfer (P-EBT) Food Benefits. Find information at the link- https://otda.ny.gov/SNAP-COVID-19/
Apply for SNAP,
Apply for Temporary Assistance,
Apply for HEAP,
Check to see if you are eligible for Temporary Assistance, Medicaid or tax credits,
There is an application for Child Support Services that can be completed and mailed in or brought to the office. 
You can create an account to:

Change Pin,
Check your transaction history or get account balances,
Report your EBT card lost or stolen.
Recertify your SNAP or HEAP case.
Report changes or view case details.
Continue to complete a SNAP or HEAP Application and track its progress as well as submit verification and documentation
You can also be directed to the Social Security Administration website to complete and online application
There is a form section where you are able to download forms for Recertification form for Public Assistance, Supplemental Nutrition Assistance Program (SNAP), Medicaid and SNAP, and Medicaid and Public Assistance
You can also report fraud directly from the website.
 
 To apply for Temporary Assistance or Emergency Assistance, please apply on line at mybenefits.gov, or visit our office. 
Are you mailing in or dropping off an application for assistance?  Then you must ensure that there is a good, working telephone number is on the application.  Eligibility staff will be calling the phone number given on the application to set-up a follow-up appointment.  If you are dropping off an application at the Front desk, the staff there will do a brief screening of your application.
If you have an active case and are trying to reach a worker in Temporary Assistance, SNAP (Supplemental Nutrition Assistance Program), Medicaid or HEAP (Home Energy Assistance Program)?  Please call 607.778.1100.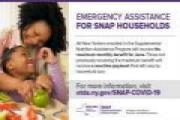 https://otda.ny.gov/SNAP-COVID-19/
For Medicaid cases: As a result of the COVID-19 pandemic, all active Medicaid cases with the coverage dates ending in  April, May and June, July, August, September and October. are being extended for 12 months.  You will not be required to renew your Medicaid eligibility during the emergency period.
Need a Medicaid Nursing Home application?  Please call, 607.778.2793.
Link to: NYS Child Support website.
Phone numbers for Social Services Programs are located in the "Contact Us" portion of the website.
---
Child Abuse/Neglect 24 Hour State Hotline:  Toll free dial '1' & then...    800-342-3720