COVID-19 UPDATE: If you do plan on visiting a Broome County Park, we ask all visitors to:
While enjoying outdoor spaces, please continue to follow the Centers for Disease Control and Prevention (CDC)/State Department of Health (DOH) guidelines for preventing the spread of colds, flu, and COVID-19. 
Stay home if you are sick,showing or feeling any COVID-19 symptoms, such as fever, coughing, and/or troubled breathing or have had contact with someone who is sick in the last 14 days.
---
Serving a population of over 200,000 people, Broome County Department of Parks, Recreation, and Youth Services oversees and maintains Nathaniel Cole Park (Town of Colesville), Dorchester Park (Town of Triangle), Greenwood Park (Town of Nanticoke); Grippen Park and Roundtop Picnic Area (both in the Village of Endicott),Hawkins Pond Nature Area (Town of Windsor), and Otsiningo Park (Town of Dickinson.)
These facilities provide diverse, year-round recreational opportunities. Annually, over 2 million visitors enjoy beaches, picnic areas and picnic shelters, play structures, a family campground, boating, miles of trails for walking, biking or cross-country skiing, and much more. Broome County Department of Parks, Recreation, and Youth Services also maintains AquaTerra WildernessArea (466 undeveloped acres in the Town Of Binghamton), and the Community Garden Plots at Otsiningo Park (VINES), Softball fields, soccer fields, and sand volleyball courts are available for organized teams and general public use.
Free events, which include "Broome Bands Together" concerts, the Annual Spiedie Fest & Balloon Rally, the Broome County Parks Triathlon and untimed Youth Triathlon, Broome County Parks Trunk or Treat, 5th Annual Broome County Parks Scarecrow Display and Contest, Almost-Annual Crappie Derby, and Winterfest are a few of the special events held each year. Nature trails at five Broome County Parks' facilities are participants in the Wegman's "Hit the Trail Passport" program.
---
PLEASE NOTE: Beaches and Boathouse at Greenwood Park, Dorchester Park and Nathaniel Cole Park will  OPEN Memorial Day weekend- Labor Day!
Beach Hours: Monday -Sunday 11:00 a.m.-7:30 p.m.
Boathouse Hours: Monday- Sunday 11:00 a.m.-7:30 p.m. *Last rental is at 6:30 p.m.-Weather Permitting*
Nathaniel Cole Park and Greenwood Park Concession Stand Hours: 11:30 a.m.-7:00 p.m.
All Broome County Parks are open all year round from 8:00 a.m. - Dusk
Reservations for picnic shelters* and campsites: www.reserveamerica.com
*Listed as "Group Picnic Area" on Reserve America
Broome County Festival of Lights
Administrative Guidelines, Rules & General Information
2020 Broome County Parks, Recreation and Youth Services Annual Report
---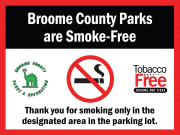 Thank you for keeping the air fresh for everyone in Broome County Parks.
Broome County Parks are smoke-free, except in the parking lots.

Follow Us on Facebook