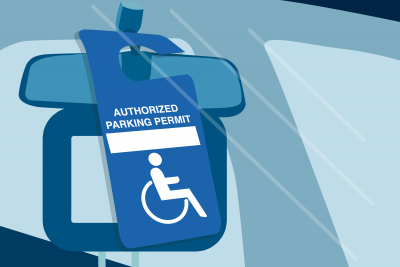 Parking permits for people with severe disabilities are issued free of charge by the city, town, or village where you reside.
Parking permits may be issued for permanent or temporary disabilities.
You do not have to be a driver or the registered vehicle owner to get a parking permit.
Children who have severe disabilities are eligible for permits, as are people who are legally blind.
Permits are issued to the applicant, not to a vehicle, so only 1 permit is issued per applicant.
Applicants must complete Part 1 of DMV Form MV-664.1, which can be downloaded here: Application for a Parking Permit or License Plates, for Persons with Severe Disabilities (PDF).
Your healthcare provider must complete the Part 2 Medical Certification.
Bring the completed form to your local issuing agency, usually the city, town, or village clerk where you reside. Their contact information is below:
City of Binghamton Clerk's Office:
Town of Barker Clerk:
Town of Binghamton Clerk:
Phone (607) 772-0357 Ext. 26
Town of Chenango Clerk:
Town of Colesville Clerk:
Town of Conklin Clerk:
Town of Dickinson Clerk:
Town of Fenton Clerk:
Town of Kirkwood Clerk:
Town of Lisle Clerk:
Town of Maine Clerk:
Town of Nanticoke Clerk:
Town of Sanford Clerk:
Town of Triangle Clerk:
Town of Union Clerk:
Town of Vestal Clerk:
Town of Windsor Clerk:
Village of Deposit Clerk:
Village of Endicott Clerk:
Village of Johnson City's Registrar of Vital Statistics:
Village of Lisle Clerk:
Village of Port Dickinson Clerk:
Village of Whitney Point:
Village of Windsor Clerk: