COVID-19, a new and highly contagious coronavirus with significant respiratory symptoms, was labeled a pandemic by the World Health Organization on March 11, 2020. As of the end of March, the United States has surpassed every country in the number of confirmed COVID-19 cases. This pandemic and the response to it are constantly evolving.
Find out how to access County services here.
Navigation
---

The Broome County Health Department is now offering free testing by appointment only. Click here to schedule.
Click here to schedule a testing appointment at the New York State-operated site at Davis College
Click here to schedule a testing appointment at the BU Gannett Building Site
Click here to find additional testing sites near you.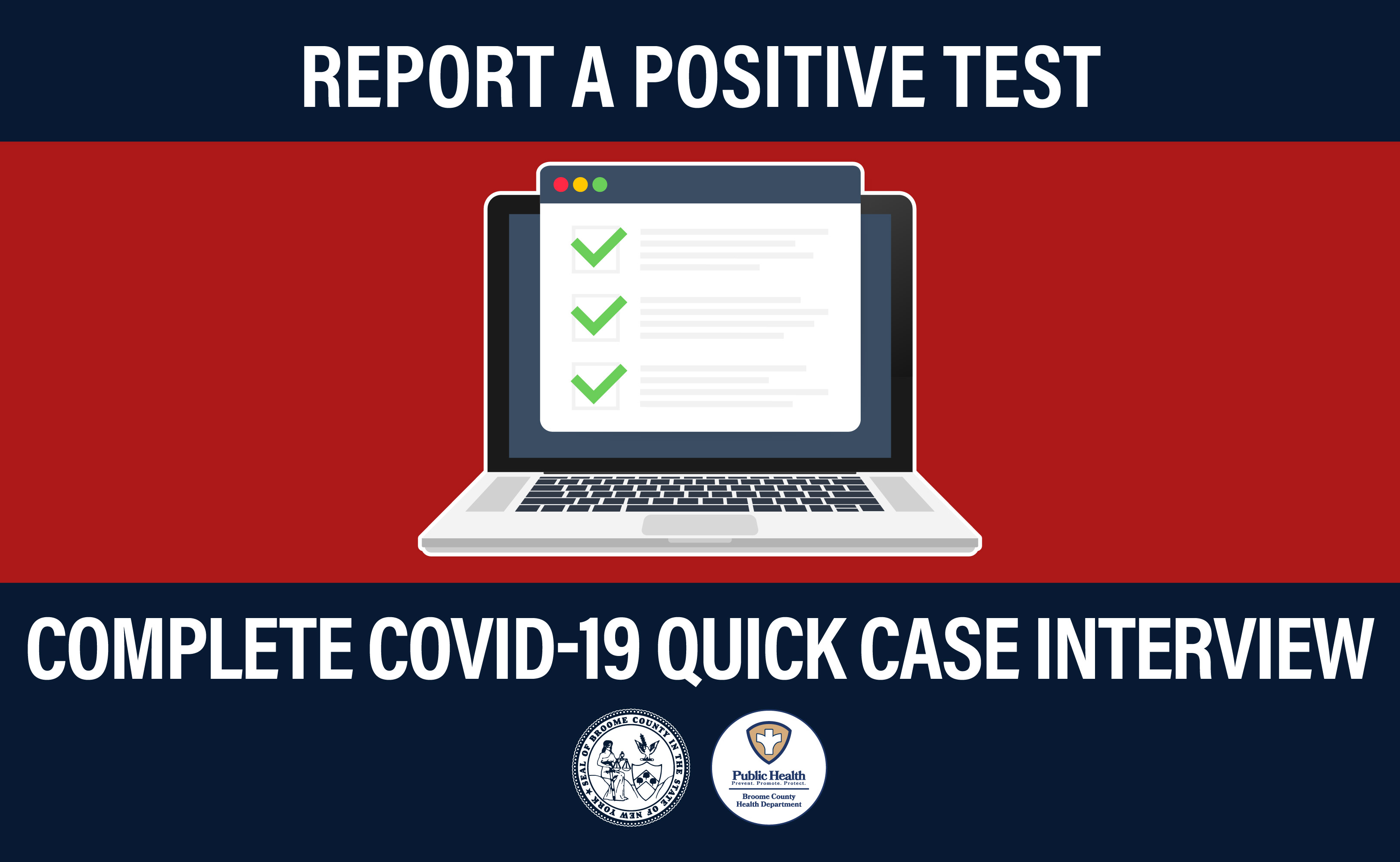 Isolate & Quarantine:
Due to high transmission of COVID-19, you may not receive a call for a case investigation. Broome County Health Department is following CDC guidance which calls for prioritizing case notification for individuals in schools and high-risk congregate settings. Contact tracers will no longer conduct case investigations or identify close contacts for each reported positive case.
If you tested positive for COVID-19:
Click the image above to:
Report where you were tested (home test, community site)
Complete a quick case interview
Receive isolation documentation
2) Notify anyone that that you were within 6 feet of for 15 minutes or more during the 2 days before you became sick
3) Follow this information about how to isolate: CDC Isolation Guidance
Have you been told you are a contact to a COVID-19 case? You will not be called by a contact tracer. Instead we ask:
1) Follow this information about how to quarantine: CDC Quarantine Guidance
2) If you need documentation for work you may complete and email/print this form: NYSDOH Affirmation of Quarantine
---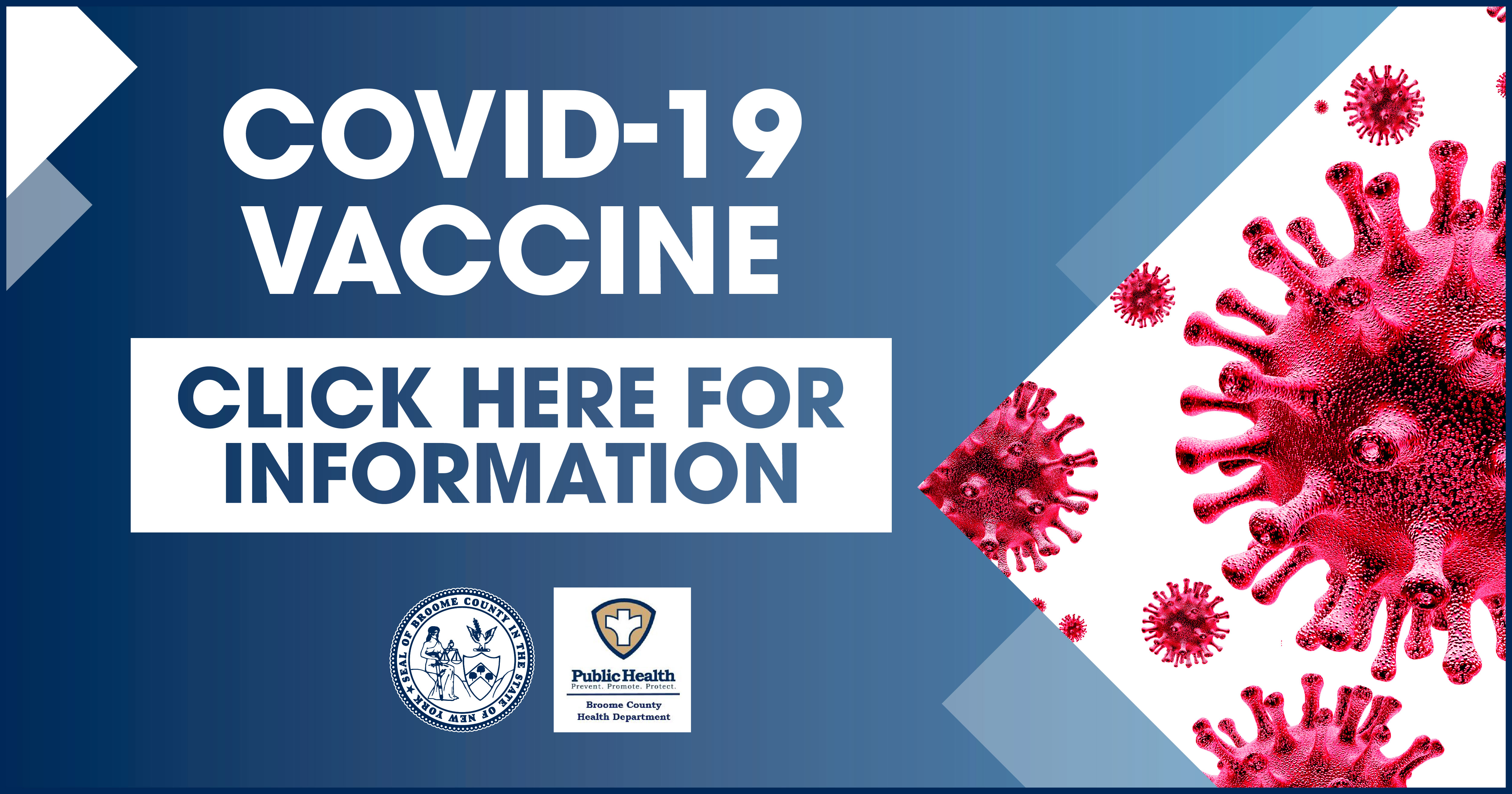 Currently the Broome County Health Department is conducting COVID-19 vaccine clinics for any New York resident 5+.
For a list of vaccine clinics at Broome County schools, click here.
---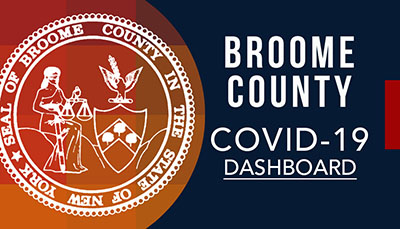 Click here for a mobile-friendly COVID-19 map dashboard.
**COVID-19 NUMBERS**
As of 9/24/21, county COVID statistics can be found on the new Broome Country COVID-19 Dashboard. Click the logo above to navigate to the dashboard. Numbers will be updated Monday-Friday. 
Have questions about these categories? We defined some of them for you.
Regional data monitored by New York State can be found on the New York Forward website.
The CDC's COVID Data Tracker, including level of transmission, can be found here.
For Binghamton University COVID-19 Testing Data click here. 
---

---
For the latest national information, visit the CDC COVID-19 website. 
New York State Isolation & Quarantine Guidance
Click here to view information for businesses regarding NYS mask or vaccination policy

Watch the County Executive's Informational Session for Local Businesses
Mask Posters Available for Businesses Here
Click here to view COVID-19 school resources and information
Returning to work after quarantine? Visit the FAQ page for more information.
We've compiled a list of frequently requested assistance
For direct, one-on-one resources, call 2-1-1.