The Eco Center is a reuse facility located on the Broome County Landfill property open during the same operating hours. 
The Eco Center accepts reusable construction materials from individuals, builders, remodelers and contractors.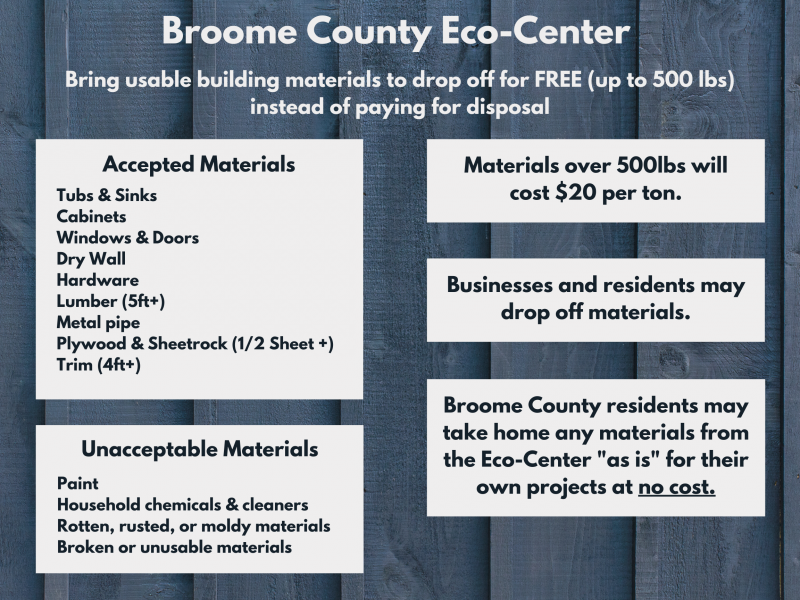 ​
How Does It Work?
The Materials Reuse Program accepts reusable building materials at no cost for up to 500 lbs.  For over 500 lbs there is a fee of $20 per ton.  Materials are available to residents to reuse for free.
Hours of Operation
Monday-Friday: 7:00am-2:45pm
Saturday: 7:00am-11:45am
Closed: Sunday and Major Holidays
---
Material Reuse Policy
Any resident may "shop" our Material Reuse Program and collect as much material as they can use at no charge
Materials are available on a first-come-first serve basis and are given away as-is, with no warranties or guarantees, stated or implied. Materials may not be altered in any way on the County property.
---
Loading
The Material Reuse Program is completely self-service. Please bring tools for measuring and people to help load your items into your vehicle. We cannot be responsible for tying down or securing items onto or into a vehicle.
---
General Policy
Children are discouraged from entering the Material Reuse area.  If you do bring children, please supervise them at all times.
No pets permitted.
Smoking, alcohol or drugs are not allowed on the premises at any time.