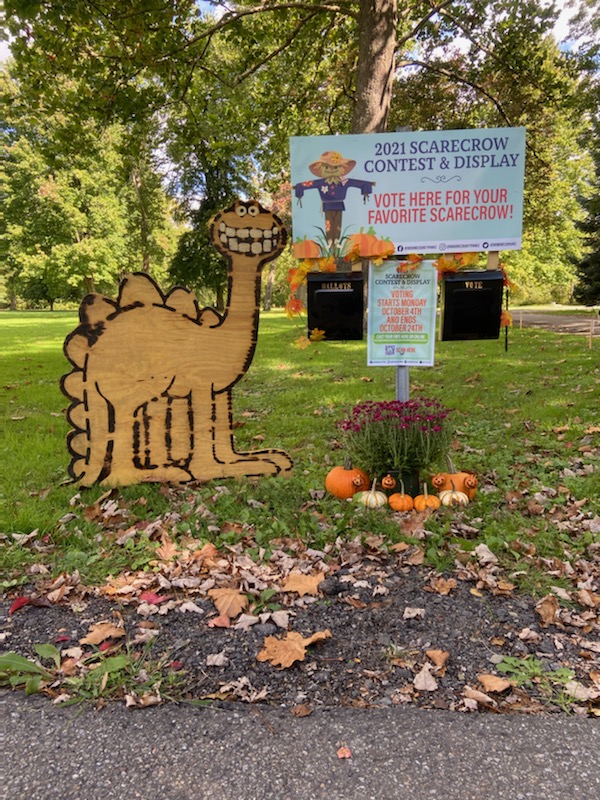 The 2021 Broome County Parks 6th Annual Scarecrow Contest and Display is will held again this year Otsiningo Park October 4th-24th. Contest Entry is FREE and OPEN to All! (Individuals, businesses, organizations, schools, clubs, groups and families). Design and create your own scarecrow and enter to win prizes. Entry forms must be received by September 24th. 
We have collected over 4,000 votes for the 2021 Broome County Parks 6th Annual Scarecrow Contest & Display! It was a close competition with so many amazing and uniquely designed scarecrow displays! We are grateful to all 45 of this year's participants, and a big THANK YOU all those who came to Otsiningo Park to vote! We can't wait for next years event!
The winners of the 2021 Scarecrow Contest and Display are……..
1st Place:  Carrie, Carly, and Patty- "BOO!" (#2)
2nd Place: Riverside Art Program-Broome Development- "Spread Kindness Like Confetti " (#19)
3rd Place:  USS Niagara NCC-75634- " Akeldama, Field of Blood" (#3)
4th Place:  Lindsey- Opt to Adopt (#27)
5th Place:  Girl Scout Troop 60281- "Girl Scout Selling Cookies" (#40)
THANK YOU ALL for your participation and creativity, and congratulations to the winners!!

Publish Date
August 20, 2021