*NOTE:  Registration for vaccine appointments through the Broome County Health Department is only done online, please do not call the health department. If you need assistance call 211. We appreciate your patience. 
---
In the United States there are now authorized or approved vaccines to prevent COVID-19. All New York residents aged 6 months and older are currently eligible to get the COVID-19 vaccine.
For a list of vaccine clinics at Broome County schools, click here.
Broome County is now offering Vaccines on Demand. You can sign up a group of ten or more people and the Broome County Health Department will bring the vaccines directly to you. Click the image below to request a vaccine pod for your group.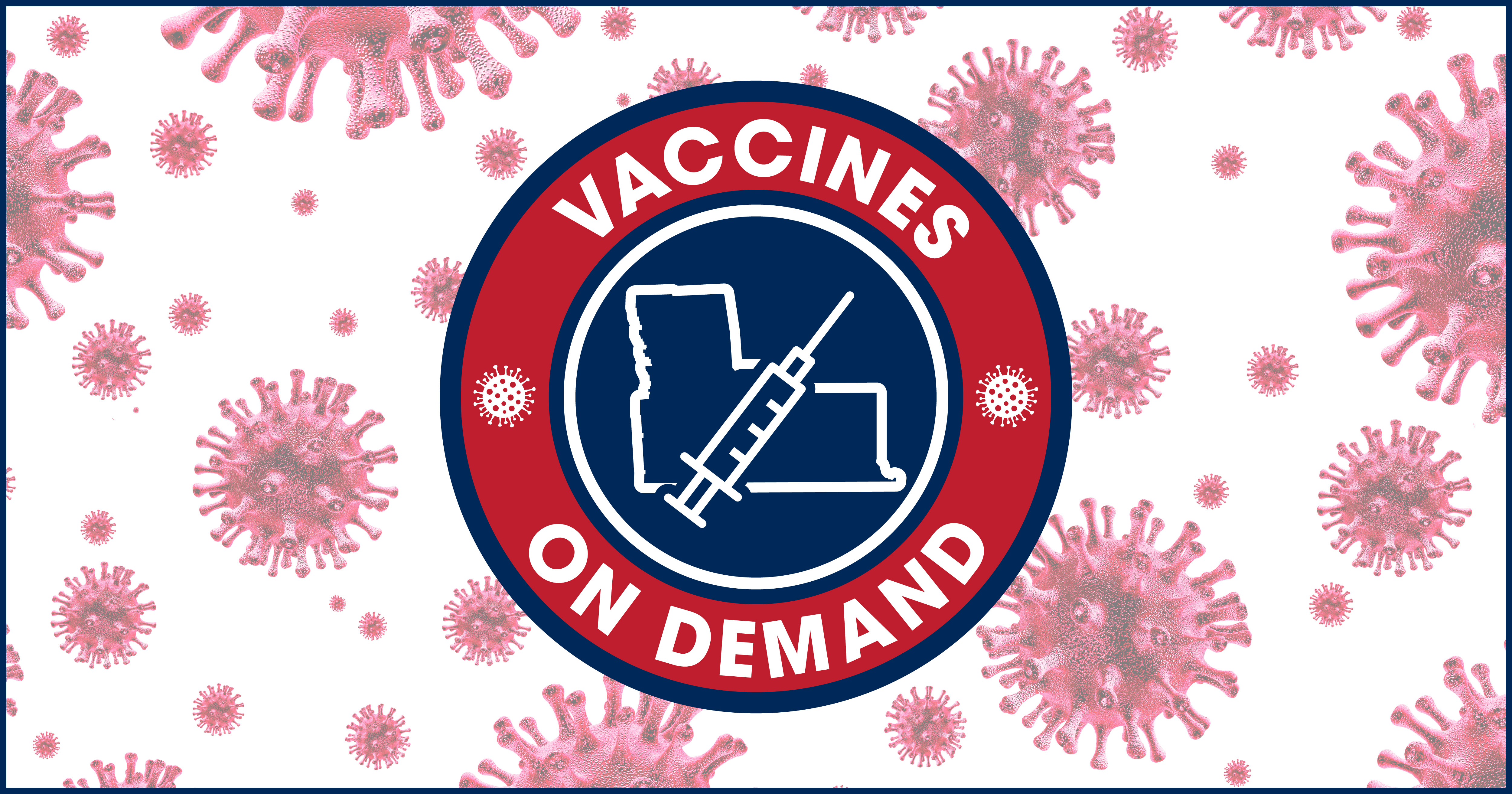 Clinics are also still operating. Click on the clinic you wish to sign up for below.
Upcoming vaccine clinics through the Broome County Health Department are listed below. Click on any clinic below to schedule an appointment.
Visit www.vaccines.gov for all the latest COVID-19 vaccine information and to find vaccines near you.
If you need assistance getting to your appointment call 211. 
---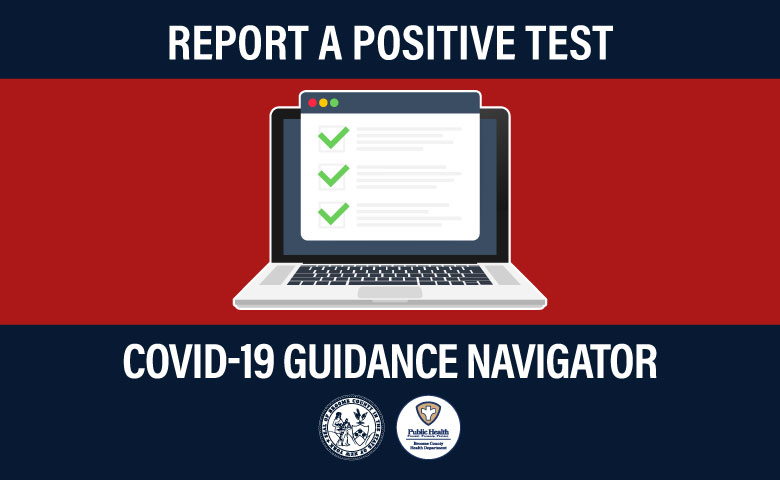 REPORT A COVID-19 POSITIVE CASE AND USE OUR COVID-19 GUIDANCE NAVIGATOR 
Broome County Health Department is following CDC guidance which calls for prioritizing case notification for individuals in schools and high-risk congregate settings. As we return to the regular functions, we will no longer conduct case investigations or identify close contacts over the phone. We are committed to providing the tools and information to help our community manage this disease. 
Click the image above to: 
Report your positive test, complete a quick case interview, and receive isolation documents 
Get advice on what to do if you are feeling sick or have been exposed to COVID-19 
If you test positive for COVID-19, be sure to 
1) Report your case at the link above
2) Notify anyone that that you were within 6 feet of for 15 minutes or more during the 2 days before you became sick, with or without a mask
3) Follow this information about how to isolate: CDC Isolation Guidance 
If you are a contact of a COVID-19 case, be sure to 
1)      Follow this information about how to quarantine: CDC Quarantine Guidance 
2)      Use the link above for advice on when to quarantine, wear a mask, and get tested NYSDOH Affirmation of Quarantine 
3)      Complete and email/print this form if you need documentation for work:  
---
Below are some links to help you learn more about the COVID-19 vaccine and what this means for Broome County:
Local Resources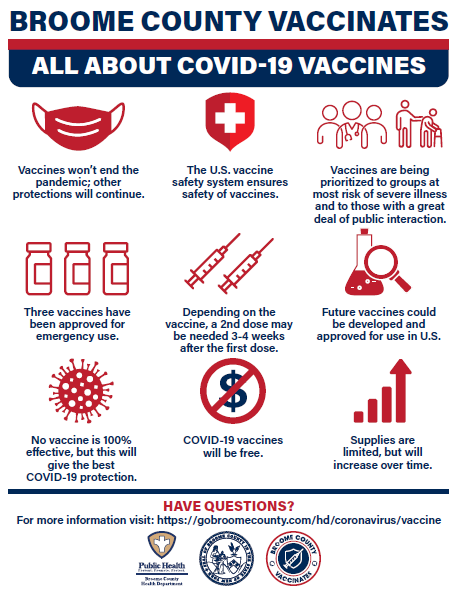 ​​

​
UHS COVID-19 Vaccine Information 
Ascension Lourdes COVID-19 Vaccine Information
State Resources
New York State COVID-19 Vaccine Program 
New York State Phased Distribution Plan
New York State COVID-19 Vaccine Tracker
Latest News from the New York State Department of Health
COVID-19 Vaccination Hotline: 1-833-NYS-4-VAX (1-833-697-4829).
Federal Resources
COVID-19 Vaccine Information from the Centers of Disease Control (CDC)
For answers from the CDC to frequently asked questions click here. 
---
Frequently Asked Questions
If I have already had COVID-19 and recovered, do I still need to get a COVID-19 vaccine?
COVID-19 vaccination will be offered to you regardless of whether you already had COVID-19 infection. Anyone currently infected with COVID-19 should wait to get vaccinated until after their illness has resolved and after they have met the criteria to discontinue isolation. The COVID vaccine is shown to provide better long-term coverage that actually having the virus itself.
How many shots of COVID-19 vaccine are needed? 
Two of the three authorized and recommended vaccines to prevent COVID-19 in the United States need two shots to be effective. Depending on the manufacturer the time between vaccinations could be 21-28 days. The other authorized vaccine requires only one shot.
Do I need to continue to wear a mask and avoid close contact with others after I have received two doses of the vaccine?
Yes. While experts learn more about the protection that COVID-19 vaccines provide under real-life conditions, it will be important for everyone to continue using all the tools available to us to help stop this pandemic, like covering your mouth and nose with a mask, washing hands often, and staying at least six feet away from others
I hear about going to a "POD" for my vaccine, what does that mean?
The term POD stands for a "Point of Distribution" which simply means an organized manner to quickly get medications to our residents. At a COVID vaccine POD you can expect to be screened and cleared for the vaccine, have it administered and be monitored for a short-time afterwards. 
---
If you have questions about other immunizations and vaccine resources provided by the Health Department head to: https://gobroomecounty.com/clinics/immunizations